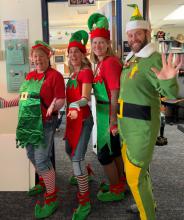 Happy holidays O'Dea Core Knowledge Elementary families! It has been a lovely day for us as we launched our O'Dea Talent Show and wrapped up the day with some fun winter break activities. I simply love this time of year! Our Talent Show was filled with some amazing performances…and it showcased our students' hidden talents…which is always lovely to see. Our Women's Act brought out the love for Encanto…and I don't think that the song "We Don't Talk About Bruno" will be out of my head for at least a week! Our Men's Act was filled with Pink Fluffy Unicorns dancing around and making the children laugh as always. Whew. It is always a lot of work…yet always worth it!
As many of you know from my previous email…this will be my last year at O'Dea and the district team has already posted my position. Our HR department will be meeting with the staff when we return from break, and they will be sending out a parent input survey after January 9th. They will be collecting feedback from our school community to prepare for interviews for the next leader of our campus. I will continue to keep you in the loop of that process as it unfolds.
We are also hosting a new literacy adoption for next year and the district will be collecting feedback on those materials as well. I am including some information here for you to review:
Literacy Adoption Community Engagement Sessions: The district will be hosting three community engagement sessions specific to the literacy adoption in January. These sessions will be designed to offer participants the opportunity to view individual presentations by the vendors who are finalists in the selection process and to provide feedback on their materials. We have posted these as public meetings in the event that more than two Board members wish to attend each session.
January 17, 6pm-8pm at Eyestone Elementary School

January 18, 6pm-8pm at Rocky Mountain High School

January 19, 6pm-8pm at Fossil Ridge High School
Since we will be returning in January…I am also including our January calendar here January 2023 Family.pdf for you to check out our upcoming events. We will be hosting our winter School Accountability Meeting virtually on January 12th at 6:00. If you are interested in learning more about budget planning…our midyear data review…and the inner workings of O'Dea Core Knowledge…please feel free to join us. I will provide a link as we get closer to the event.
We are hosting our next O'Dea Family Dinner Night out on Thursday, January 19th. I am including our flyer for you here: CRISP+GREEN flyer.pdf
We have our specialists newsletter here for you to check out what our students are working on during their time with our team. specialsnewsletter#5.pdf
As we enter into this holiday season and winter break…I hope that everyone is able to enjoy time with their people. I hope we all sleep in a bit…rest up a bit…and enjoy time with our families. It is a season that is filled with magic for children, and it is a joy to be able to be in their lives to watch the wonder unfold. The energy in our building this week…has been joyous and full of love…and we are sending all of that home to you!
I look forward to seeing everyone on the other side of the new year. I hope that your winter break is simply magical.
Happy holidaying!
Much love,
Laurie