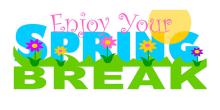 Happy Spring Break O'Dea Core Knowledge Elementary families! It has been a simply lovely week and the perfect wrap up before our break. We hosted our Battle of the Books competition this morning and I am so proud of our students who competed. They dedicated their free time to reading multiple books…studying them together…and practicing for our competition. We will be sending along teams from our third and fourth grades to the district level competition in May.
We will hit the ground running when we return and will be ensuring that our students are connecting with their learning and each other. There are quite a few spring events on our calendars, including our 60th Birthday Party Core Fair Event on Friday, May 12th from 5:30 – 7:30pm. Please be sure to add this date to your spring calendars as it will be our biggest event of the year. We will be hosting our Core Fair projects…food trucks…a root beer float station…generation booths across the years and history of O'Dea…a Silent Auction…and a live band. It will be an event to be remembered for sure.
As we prepare for our Silent Auction…grade level teams will be generating themes and will start communicating with families about donating items early April. Each grade level will be creating baskets for our Silent Auction…and we are thankful for your support. All of our auction proceeds go towards our Core Knowledge curriculum and materials support.
We are hosting our next dinner night out on Thursday, March 23rd at Dickey's Barbecue Pit…I am attaching the flyer here for your review. It is close…and an easy way to gather with other O'Dea families for some down time after school! DICKEYS_NIGHT OUT.pdf
Fort Collins High School is also hosting a National Honors Society Spring Carnival on Saturday, April 15th from 9am to 12pm at Fort Collins High School.
Here is a blurb from the campus:
"We want to welcome families and kids of all ages! There will be games, egg hunts for all age groups, and fun prizes to win. Admission is $4 per person, or 2 cans, with a maximum of 10$ per family. All proceeds will benefit The Fort Collins Food Bank! We would love to see all the kids there! Attached is the flyer for the event." NHS Spring Carnival (1).png
I hope that everyone has a lovely spring break with their people. It is always an opportunity for us to rest up…breathe deep…and to prepare for a lovely spring together. Just as the seasons change…our students always return from spring break having grown an inch or two taller…their smiles are wider, and their laughter is deeper. It is good for children to spend time with us…and it is also good for students to have these breaks with their families...it is a good balance.
I will be doing some packing and some traveling with my daughter to San Miguel de Allende. She is completing her graduate degree this summer and I like to focus my "presents on presence" and experiences together…so off we go! I will enjoy my time away…and as always…look forward to our time together again.
Happy Spring Breaking!
Much love and support,
Laurie