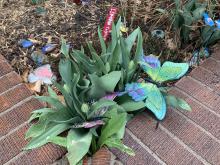 Happy beautiful Friday O'Dea Core Knowledge Elementary families! Well…the butterflies in our front yard have weathered the spring snow that we received last week…and are starting to perk back up under this big blue sky that we are enjoying today! I love our Colorado weather…yet am ready for spring to get here and stay. Our students have been enjoying time outside during recess…book buddies…picnic lunches…and silent reading time. The blue skies and fresh air is good for their spirits…and good for us too.
For our 3rd – 5th grade students…we have entered our CMAS state assessment window. Our fifth graders launched this week…and did a tremendous job showing what they have learned this year. Although it is only one indicator of student growth and progress…it is an indicator that the state and district use to determine student success in school. We do encourage our students to take it seriously and to do their best…and appreciate the parent support with this endeavor as well. We are asking our families to help get our students here and on time for the next few weeks…and to limit outside appointments as much as possible during the school day. The students typically prefer to test with their classmates…so not having to do a makeup test on another day is helpful for everyone. Thank you for your support!
Our next dinner night out will be coming up quickly in early May! This time around it is Chipotle…a delicious and semi nutritious option for all…and a great way to earn money for our campus as a portion of the proceeds are donated to our O'Dea PTA! I am attaching the flyer here for you: Chipotle-Online-Fundraiser-Instructions.pdf
Our specialists have been super busy with our students and have some great information to share in our specialist update. Please be sure to check it out here: Specialist Newsletter 8.pdf
We will also be hosting our Spring Musical titled Seussical Kids on Thursday, April 27th at 7:00 at Fort Collins High School. Our team has been working tirelessly with the cast and it will be a night to be remembered. I am attaching the flyer here for your review: Seussical Flyer.pdf Please join us if you are able!
Our April PTA meeting will be hosted on Monday, April 10th at 6:00…it is a great opportunity to hear about all the great things planned for the remainder of the year and to start planning for next year as well. Our PTA meetings are online so you can join from the comfort of your own home. I am attaching the information here:
PTA Meeting link and information:
Topic: Emily Birdsall's Personal Meeting Room
Join Zoom Meeting
https://us02web.zoom.us/j/7042966946
Meeting ID: 704 296 6946
Well…today marks the three-month window until I depart for Paraguay. I went to visit my momma last weekend in Chicago, and she asked if I was scared and nervous to go. I told her that I was "comfortably afraid" which is exactly how she raised me. I reminded her that this is exactly who she raised me to be. She raised me to do hard things…to fail and get up again…and that I should not be afraid of doing things that are different…and difficult. I hope that that is something that we pass on to your children as well…that they can do hard things…that they can persevere…take risks…be different…and that following their hearts can be scary…yet it is usually worth it.
I hope that you all enjoy this lovely weekend that is before us!
Happy weekending!
Much love and support,
Laurie