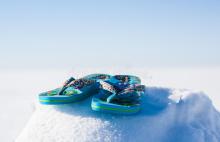 Happy kinda snowy not feeling at all like spring Friday O'Dea Core Knowledge Elementary families! Well…I guess that I should just know better…just because you wear sandals one day…does not mean that you wear them again that week when you live in Colorado. We are keeping the children cozy today and look forward to the continued sunshine that is in the forecast next week.
I also wanted to send a shout out to our fourth and fifth grade families for getting their kiddos to school on time and ready to show what they know for our state assessments this week. It is an interesting time of year for our students…it is exciting…a bit stressful…and hopefully it is also a confidence booster as well. Our students have worked hard to prepare themselves…and our teachers are the experts in our state standards and mapping those out for the highest degree of student learning. We will be launching our third-grade testing window next week…and our students are ready.
We are less than one month away from our 60th Anniversary/Birthday Party and Core Fair Event. It will be the "must see" event of the season! One of the event highlights is our Silent Auction that supports supplemental materials for our Core Knowledge Sequence. Each grade level has generated a unique theme to collect items for their basket. Please consider donating an item for your child's grade level. It is a fun and festive way to support our campus…and build our access to the most updated Core Knowledge materials. If you have questions…please reach out to your child's teacher.
Please also recall that there is no school this Friday, April 21st. The district is hosting a Work/Professional Development Day for our teachers. We are adopting a new literacy curriculum for next year and our campus will be digging deep into the Core Knowledge Language Arts materials and the skills sequences that accompany these materials. It will be a day of deep diving into new domains and materials for the 2023 – 2024 school year…always an exciting time of year!
It is also hard to believe that we only have six weeks left together before our summer holiday. While I am excited for summer…I am also quietly trying to slow things down just a bit so that I may drink in all the love and joy that surrounds me each day. While there are definitely moments of the day that I would be happy to fast forward through…most of them…I would choose to slow down and cherish them a just bit more. I am definitely fully aware of the goodness that we have here at O'Dea. I do not take that for granted for one minute…and I am thankful for this level of awareness and gratitude. I hope we all take the opportunity to rest in gratitude this weekend…and enjoy the sunshine that is coming on Sunday!
As always…please reach out with any questions…we are here to help.
Much love and support,
Laurie