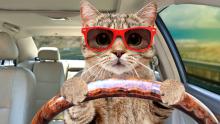 Happy Friday O'Dea Core Knowledge Elementary families! It has been a simply fantastic week for us! It feels good to be on the other side of CMAS testing…and the weather continues to warm up and it smells like spring out there!
It is hard to believe that May is right around the corner! I am attaching our May calendar here for your review. May 2023 Family.pdf Don't forget that we have our next dinner night out at Chipotle next week as well! Here is the flyer with more information here: Chipotle flyer.pdf
We have quite a few celebrations this week to share. On a good news note, the playground equipment that we ordered with our Boosterthon earnings is in! They will be installing it this weekend so our campus will be a bit under construction. It is SUPER exciting as it was not expected to be in until summer!
Field Day is coming up next month as well! We will be hosting our barbecue for our students this day as always and we are asking that if families want to join us that they bring their own lunch to the event. It helps our kitchen move swiftly and be able to provide service to our students in a timely manner…thank you for your support with this! More information will be coming out soon from Mr. Mohs on schedules and events!
Also…it is officially the countdown to our Core Knowledge Fair and 60th birthday party! We are super excited and have been working very hard to prepare for this fantastic event that celebrates and showcases our history…our story…and the love that we have for our campus. I hope that you are planning on joining us on Friday, May 12th!
Finally….many of you were able to join us last night for our Seussical the Musical performance at Fort Collins High School. As I noted in our staff email last night…a giant thank you to Candice McLaren (our music teacher) and her crew (and her family) for doing such an amazing job pulling the show together. Opportunities like that…change our world for the good…they just do. Every performer and stagehand left that theater last night walking a bit taller…with an air of confidence that they did not have before the performance…you could just SEE it in them. Some days…those little moments…change a child's life and how they see the world…forever. The theater was brimming with our teachers and families so thank you all for showing up as well…I could not be prouder of this Usness of US.
I hope that you all enjoy lovely weekends with your people. I will be out of the building for most of next week as I transition our family cat to his sister's home in Washington D.C. Yes. I will be driving…a cat…across the country. These are the things that we do for our children…both human and animal. I promise to come back with many tales and photos of this adventure!
Happy weekending!
Much love and support,
Laurie