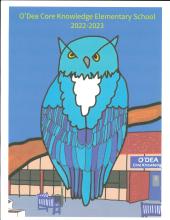 Happy cloudy…misty…wet…lovely…hilarious Field Day Friday O'Dea Core Knowledge Elementary families!  It is a good thing that we are not made of sugar because our Colorado weather was certainly not cooperating with us today!  The air quality kept some students inside…and there was plenty of soggy feet traipsing through the building…yet…we made the best of it as we always do…and we were very flexible in our thinking which is a strategy that we teach our students as well.  There is no better way to spend the day than running around outside with your children.  They LOVE to have fun together...and today we did just that.  Thank you to all of our parent volunteers and those that joined us for our lunch outside as well…it is always lovely to see our families on campus!
Next week is our final week of school…some days it feels like it has flown by…and other days (January) it feels like it crawled.  Either way…we have arrived at this perfect juncture and are preparing to send the children back to you for some summer fun.  Please remember that our last day (Friday, May 26th) is a half day, and our bell will ring at 12:08.  Please be sure to pick up your child on time that day as we have a luncheon immediately following dismissal and all teachers will be attending it.  Thank you!
On a library note…please be sure to check around your home for any library books to be returned.  We are hoping to collect as many as we can from students next week before we close the library up for the season.   We will also be sending home many books with students as we are hosting a new literacy adoption next year and we will not be using some of the texts from our current series.  So…if your child comes home with a bag of books from school…they are theirs to keep!
On a nurse's note…if you have medication that is housed at school for your child you must pick it up before our dismissal on Friday or it will be properly disposed of by our district nurse.  We cannot send medications home with children, and it must be checked out from the nurse by the parent.  I am also attaching an updated medications and immunizations note from our nurse here as well:  2023-24 O'Dea Medication and Immunization Letter to Parents.docx 
Yearbooks are in!  If you purchased a yearbook for your child, teachers will be handing them out on Monday.  We do have a few extras if you would like to purchase one in the front office.  They are $20 (cash or check to O'Dea Elementary) and we will sell them until they are gone. 
I hope you all have lovely weekends with your people.  The sun is supposed to make an appearance…fingers crossed. I believe that we are all in need of a little bit of that after the past two weeks of rain.  While the rain does an amazing job keeping our wildfires at bay…when you are used to Colorado sunshine…it starts to affect our psyche when the sun is hidden for so long.  I hope you all get outside a bit…and drink some in!
Happy weekending!
Much love and support,
Laurie