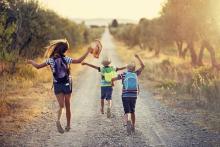 Happy Summer Break O'Dea Core Knowledge Elementary Families! It is such a bittersweet time of year for me…and the very last family update that I will send you. As I noted at our last staff meeting this week…I can honestly say that there has not been one meeting with our team that I have not loved. There has not been a meeting or a time together that I have not thought long and hard about…to make it be as good as it could be for our teachers…so that they in turn could go and serve our students. It has been just a giant jumble of love and hard work…and I would choose it over and over again. As I told our fifth graders today at our graduation ceremony…they have been raised in a circle of love here at O'Dea…and for those who have been given so much love…it is their responsibility to pay that love forward.
I leave our campus in the very capable hands of our teachers and our leaders. They will continue to focus on our core values…and see your children for all the goodness that they bring. We know that we must see the magic first…that we are the keepers of hope…and the bringers of opportunities and greatness. I thank you for putting your faith and trust in me for the last fifteen years at O'Dea. You have all raised me right…and I could not be more thankful.
I attached my contact information in my last family update email to families for those who may want to reach out…or to follow the fiesta as it unfolds for me. My new campus weblink is below:
New campus:
The American School of Asuncion - https://www.asa.edu.py/
Whew.
Thank you for another wonderful year. Today we are sending 437 heartbeats into the wilds of summer. Please love them for us while they are away. Remind them that they are magic. They will be scooped up with our loving arms in 82 days once again.
So much love and support,
Laurie