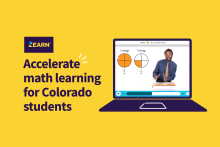 Gov. Jared Polis announced that Colorado will make Zearn, a K-8 online math support platform, available to Colorado schools. Poudre School District is working with Zearn to provide all current K-5 students, as well as 6-8 students currently taking a Math course in Quarter 4 of the 2022-23 school year, access to use Zearn over the summer!
The Zearn Summer 2023 Math Intensive Series teaches students foundational skills in 4- to 6-week sequences. Additional information about Zearn is available on the Zearn page of PSD's Community Tech Portal.
Read more about the governor's announcement by using this link to the Chalkbeat story.
Thank you for your continued partnership.
Poudre School District